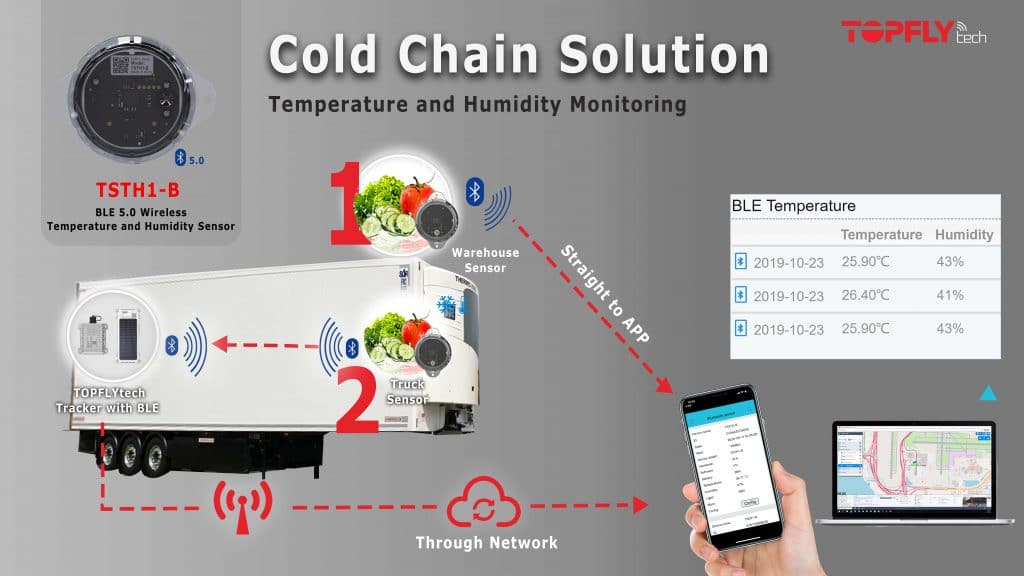 TOPFLYtech TSTH1-B BLE 5.0 Wireless Temperature and Humidity Sensors are aimed at cold chain logistics and warehouse applications. It is designed in response to industry demands for environment monitoring to resolve losses caused by unfriendly and unexpected temperature and humidity changes.
Why is it important?
When temperature changes and deviates from its pre-set environment due to mismanagement or machine breakdown, fresh stocks are put at risk of going bad. Big batches of high value products are wasted every year causing not only losses on the owner, negative impact on end users, but damages on our international economy.
How does TSTH1-B work?
There are 2 ways of using this sensor.
1. It can connect and report straight to cell phone via BLE. The temperature and humidity figures will show on APP.
2. It can connect and report to a TOPFLYtech GPS tracker with BLE. The trackers then send the data to your server via network.
Where should we use TSTH1-B on?
Refrigerated trucks, warehouses, supermarkets, storerooms, greenhouses, laboratories, you name it. Anywhere that requires a strict control of temperature or humidity can make great value out of TSTH1-B.