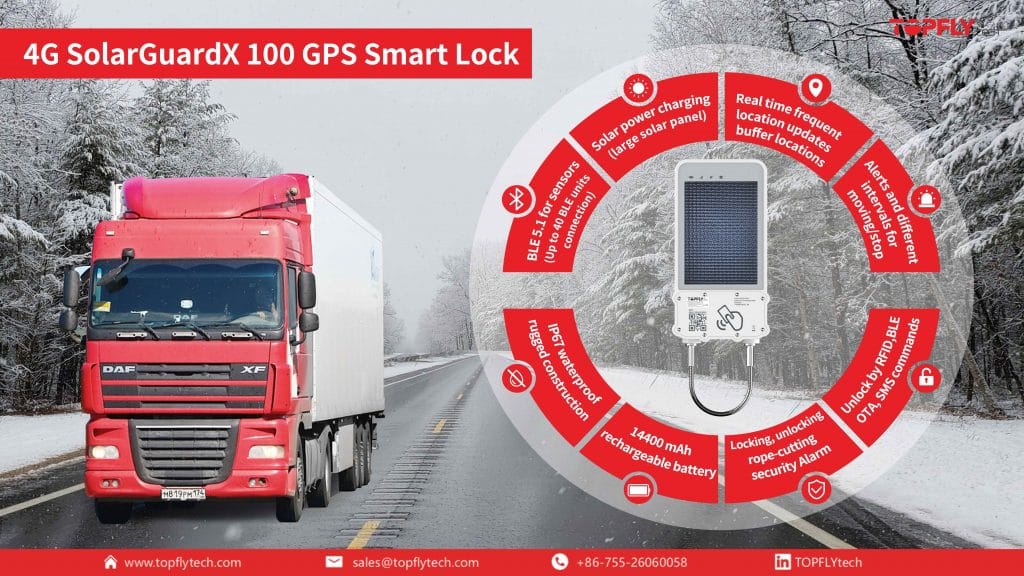 With thrill and pride, TOPFLYtech launches world's 1st solar GPS smart lock for monitoring and safeguarding assets, the SolarGuardX 100. This GPS smart lock is designed and developed with our rich experience in outdoor asset tracking telematic structures, expertise in solar charging efficiency and in-depth understanding about battery.
Here's a run through about the SolarGuardX 100 solar GPS smart lock:
-Solar power charging (large solar panel)
-Real time frequent location updates, buffer locations
-Alerts and different intervals for moving/stop.
-Unlock by RFID, BLE, OTA, SMS commands
-Locking, unlocking, rope-cutting, security Alarm
-14400 mAh rechargeable battery
– IP67 waterproof, rugged construction
– BLE 5.1 for sensors. (Up to 40 BLE units connection)
#TOPFLYtech #GPSlock #smartlock #gpssmartlock #solar #assettracking #fleetmanagement #IoT #telematics #BLE