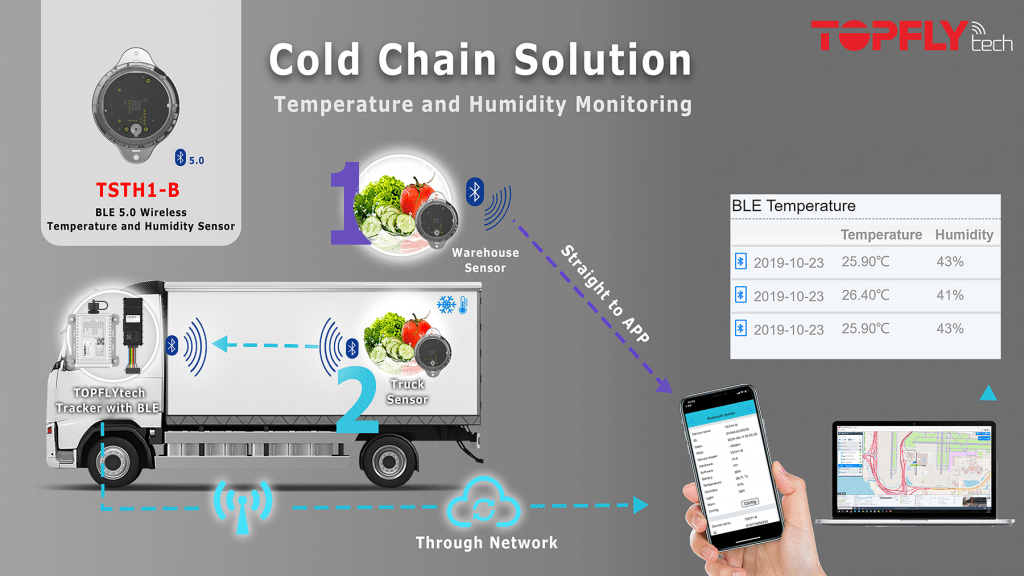 In cold chain business, people have been looking for an efficient way to manage the environment their stock stored in. Especially for raw meat, seafood, fruit and medicine, they are required to be kept in a more accurate and constant temperature.
Our temperature and humidity sensor TSTH1-B is designed to serve the needs of monitoring the environment in refrigerated trucks. It reports the precise temperature and humidity to the GPS trackers, so that the real time data can be seen on APP and web. This product stops fresh stocks being wasted due to unknowingly shut down of the refrigerator. It is one of the best ways to minimise losses in cold chain business. Furthermore, imagine if the distributors show their clients how their stock has been kept along the way, it is another proof of freshness.
Why is it important? When temperature changes and deviates from its pre-set due to mismanagement or machine breakdown, fresh stocks are put at risk of going bad. Big batches of high value products are wasted every year causing not only losses on the owner, but on our international economy.
How does TSTH1-B work? There are 2 ways of using this sensor. 1. It can connect and report straight to cell phone via BLE. The temperature and humidity figures will show on APP. 2. It can connect and report to a TOPFLYtech GPS tracker with BLE. The trackers then send the data to your server via network.
Where should we use TSTH1-B on? Refrigerated trucks, warehouses, supermarkets, storerooms, greenhouses, laboratories, you name it. Anywhere that requires a strict control of temperature or humidity can make great value out of TSTH1-B.
To know more about this exceptional product, please leave a message on the contact page. Looking forward to hearing from you!